Seamless Guttering & Gutter Repairs Bedford, Bedfordshire
At ARG, we are always striving to achieve the best results for our customers, which is why we keep up-to-date with the latest technology. Our Mustang Approved Seamless guttering has become increasingly popular with customers throughout Bedford over the last decade. After being introduced from Canada it is still the only continuous aluminium guttering system in the UK.
Since being introduced there has been over 3,000 miles of seamless aluminium guttering installed. It has become a major system for use on domestic properties and also within private sectors providing quality and value that meets any budget. Mustang approved guttering has greater performing flow rates than non-metallic alternatives. It has been thoroughly tested in extreme climate in Canada and has the same specifications applied for use here in the UK.
When you choose ARG to install Mustang Approved guttering, you can rest assured you are receiving the best service at competitive prices from your seamless guttering installers
Benefits of Installing Seamless Guttering
Leaks are minimised
Seamless guttering is durable
It is easy to clean
The structure is consistent
Colours Available:
Black, white, brown & anthracite grey.
Call today for expert advice
Continuous aluminium guttering system


Roll Formed: -

Click Here

Roll Formed on site using 0.9mm Aluminium coated in Black, Brown, Grey, Anthracite Grey (compliments windows) and White standard.
Made from high quality polycarbonate and aluminium, joints and connectors are fitted in two parts and then fastened and sealed using durable stainless steel screws. Also allowing overall lengths over 30 metres by simply joining together.
Downpipes & Fittings: -

Click Here

Extruded Aluminium from the "Colonnade" range, sizes from 63mm to 101mm wide in Round or Eared. Please call for a no obligation written quotation & specification. Special colours are available to order with a Ral Number.
Gutter Repair Specialists
Whether your gutter is leaking, cracked or broken, we can offer replacement gutters or carry out gutter repairs. We will advise you on the best guttering system whether you have a large or small commercial or domestic property.
Aluminium Gutter Providers & Installers
For a free no obligation quotation for any replacement guttering in Bedford give us a call today on 01234 403 111. You can also contact us using our contact form and a member of our team will respond to your enquiry shortly.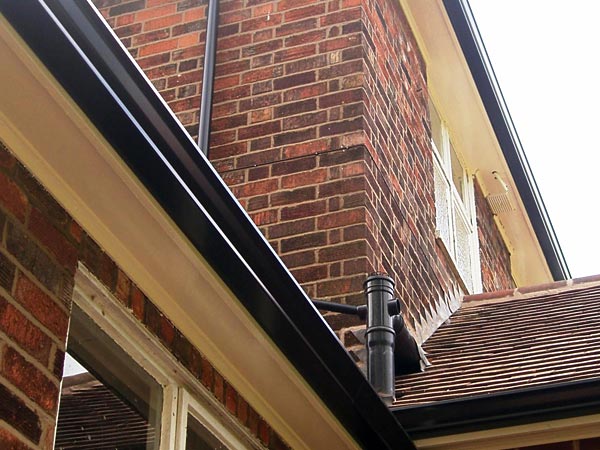 Why choose
ARG
?
Professional and friendly service
Established for over a decade
Free surveys and quotes
10 year guarantee
All installers are DBS checked
Asbestos awareness certified
Trading Standards approved
High quality materials utilised