Cast Iron & Aluminium Guttering Bedford
ARG offer a huge range of different cast iron guttering, whether it's a different shape or colour you would like, then call ARG and we will be able to help you out. We supply the standard circular, square and rectangular gutters in various sizes and come with a traditional style socket. We can also offer a vandal resistant downpipe, which is non climbable and has hidden fixings. This is very popular with commercial buildings.
We can come out to you and fit cast iron guttering anywhere in Bedford, Milton Keynes and the surrounding areas at a very competitive price. Our team are fully trained and very professional, giving all of our customers the best possible service. For more information on our services, which also includes a gutter repair service, or if you would like for us to come out to give you a free consultation and a free tailored quotation, please give us a call on 01234 403 111 and we will be more than happy to help answer any questions you may have.
ARG supply & install a huge range of Cast Iron Guttering in various styles & colours
Cast iron is especially well suited and a popular choice for all drainage systems. No other product offers long life, durability & strength like that of Cast Iron.

With proper maintenance we would expect rainwater systems made from Cast Iron to last for over 100 years.
Cast Aluminium Guttering & Downpipes: -

Click Here

Cast Aluminium guttering at ARG are manufactured using aluminium casting techniques. BBA Approved and manufactured in the UK ensures our guttering has the life expectancy from 25-40 years. Available is an extensive range of fixing options, a variety of colours/finishes. RAL colours are available for special order. As cast aluminium will not rust, maintenance is minimal.

Hoppers / Hopperheads: -

Click Here

Hoppers are also a decorative feature on any building. As well as the standard range, bespoke hoppers are also available with a variety of decorative cast motifs and embellishments. Their key features include styles to suit both traditional and contemporary buildings, traditional styles emulate cast iron, vandal resistant system, ideal for use in public areas, heritage black finish light and they're easy to install. There is also a wide range of hoppers for you to choose from.
ARG supply a complete range of Hopperheads in cast aluminium, cast iron as well as pressed aluminium. We can supply these Hopperheads in all sizes and we can even produce made to order hopperheads.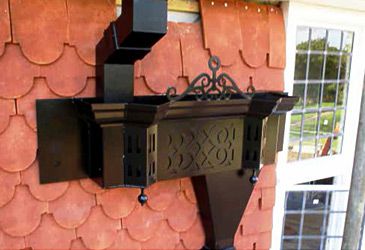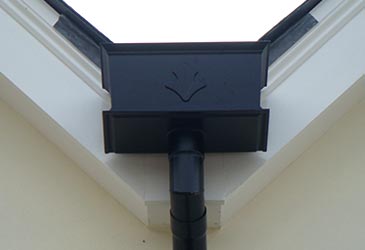 Anti-vandal Downpipes: -

Click Here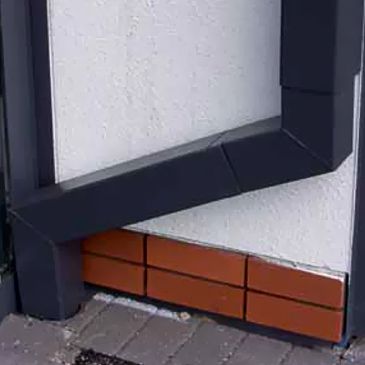 We do occasionally get contacted by organisations, such as schools, village halls and youth clubs who have a problem with vandals climbing their downpipes to gain access to the roof or upper floors, where they break in and cause damage. As well as the damage to the building it usually results in damage to the downpipes and guttering.
At ARG, we supply and fit 'Anti-Vandal' downpipes, which are fitted flush to the wall using internal fixing brackets. This stops people being able to get their hands or feet behind the downpipe, thus preventing anyone being able to use them to climb up or cause damage to the downpipe and guttering.
Cast Aluminium Guttering
Cast Aluminium guttering compliments all different kinds of buildings. Their appearance looks aesthetically pleasing compared to UPVC. Cast Aluminium does cost more than UPVC in the beginning, however in the long run you will benefit from not having the replace plastic guttering that has developed cracks or corroded away. Being very strong, aluminium can resist various weathering and even protect against footballs.
We're proud of our customer service as we always go that extra mile to help out our customer and to give them the best possible service. So if you need to contact us to get a free no obligation quotation, or if you'd like to ask us any questions about the products we supply and our services, then please give us a call on 01234 403 111.