Finlock Gutters Bedford, Bedfordshire
Finlock guttering is a great way to stop any leaks that have been causing you a problem. When installed correctly it can last for many years meaning that in the long term it will save you money. Our professional installers have been fully trained in all aspects of installing, repairing and replacing all types of Finlock guttering available in Bedford and Milton Keynes.
If you would like to call us to come and install, repair or replace any type of guttering, fascias, soffits, car ports etc then you can contact us on 01234 403 111 or by heading over to our contact page and filling out the form. We will then get in touch with you and discuss in more detail your enquiry.
Call today for expert advice
Why choose
ARG
?
FREE Guttering Surveys & Quotes
10 Year Guarantee
Trading Standards Approved
Seamless Guttering Installation Experts
Highly Trained Installers
Domestic & commercial work welcome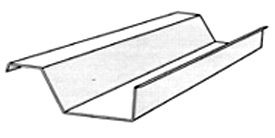 About Finlock Guttering
Corner units and stop ends are best fabricated and powder coated off site to suit the profile of the liner and then underlying "Finlock" Gutter by Aluminium Roofline Products. The design of these fittings should allow and overlap joint between the fittings and liner of at least 50mm, and sealed by Arbosil 1090/1096 silicone sealant and pop riveting as recommended and supplied by Aluminium Roofline Products.
If water is to be discharged from the liner via the existing down pipe as is normally the case, then the base of the liner should be opened at the outlet point and sealed to the underlying concrete by means of Arbosil 1090/1096 silicone sealant using a soft polythene 60mm outlet fitting provided by Aluminium Rainwater Good, following measurements being taken on site.